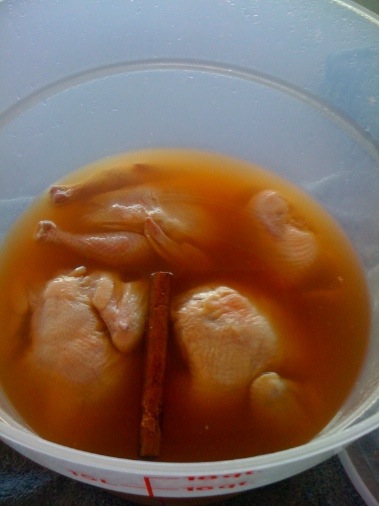 24 hours in a citrusy salty bath.
seekrit ingredient= a cup of brown sugar!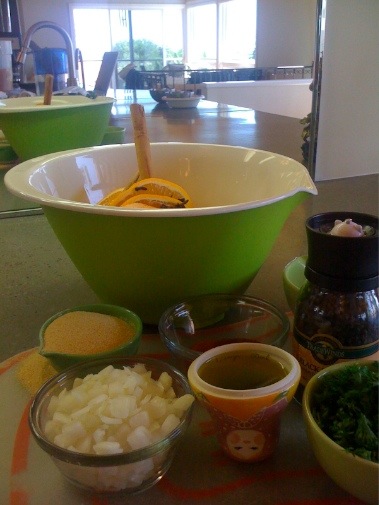 Today's 6 hour marinade. in the green bowl are 3 sliced lemons, 3 sliced oranges, 2 cinnamon sticks & a handful of cloves. pictured we have onions, paprika & chili powder, a quarter cup of garlic powder! parsley and EVOO. and that pepper that tried to be 3 Tablespoons but ended up being until my wrist rebelled.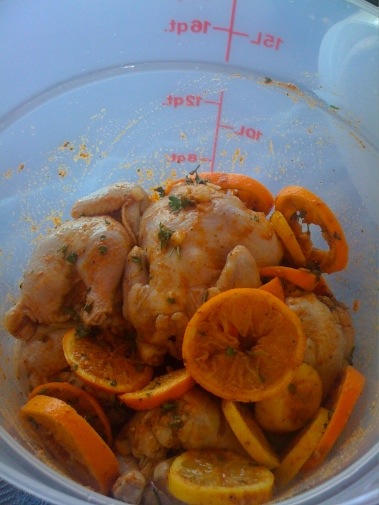 this is the end result. at this point i nearly quit and tossed it all. it really smells unpleasant. onions & oranges & paprika?? ya, not so much fun. back to fridge to marinate throughout the day.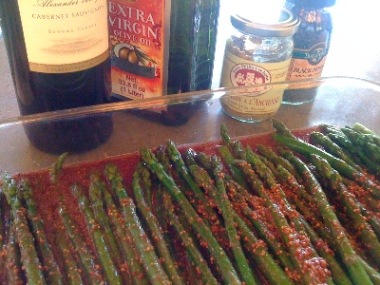 Drunken Asparagus. only missing ingredient here is salt.
TaDa!! dinner is served. all photos taken w/iPhone so the quality is sparse. next time i gotta figure out how to get some good colour on the skins. the brine served as practice for our first Turkey Day in the Casa. i'm happy to report that the flavour of the hen was really really really quite tasty. however boring she looks.
this was also to be me Mumz' Birthday (tmrw) dinner, however her car had other plans so she went with those instead. So we turned it into my Bro-in-Law's Birthday (Sat) Dinner!! his first time at the casa too!! then we all played a few rounds of Beatles Rock Band. my verdict is i LIKES it.
also met with an architect today, wrt the deck/outdoor living ideas. i'm hopeful he'll have some inspiring ideas. i think i made my point that i So Do Not Want To Have A Pool Area that looks like a hotel. ah, i feel bad now but i did tell him what i want looks nothing like his portfolio pictures. he seemed to take it in stride tho and i heard him mention he was excited to do something more modern and sleek. GLEE!!!! cos yes, thats it exactly! i hope it comes with a workable budget…