in brand spanking new (she's scored a 9.8 on her apgar scale) kitchen!! Ev cooked for us. a vegetarian pasta bake. like 4 kinds of cheeses!! nom nom.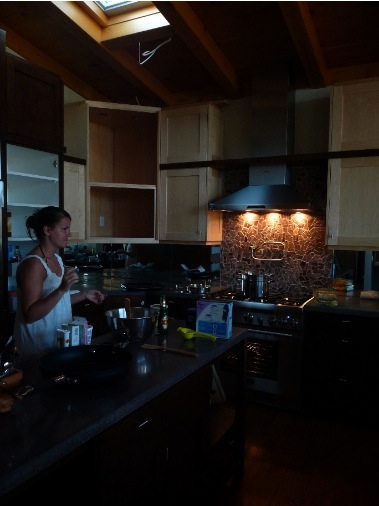 as of last Saturday when these were taken there was still quite a bit of undone odd and ends. Directly behind Ev the pantry door is missing. the dedicated ice machine had a little something to do with that. hinges? who needs 'em! looking up y'll see the sky light still doesn't have electricity to make it operable. just below that the upper cabinet is missing it's doors, they were off getting some glass in them. the lower cabinet for the microwave. other then that the mess is all cooking and unpacking boxes. i'm oft heard "wtf do i do with all this space and HOW IN THE UNIVERSE am i going to know where i put anything?!?!"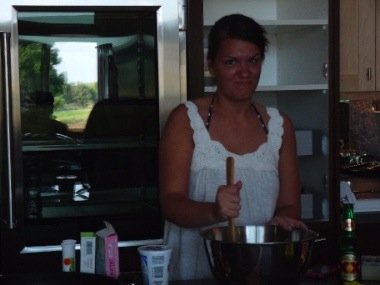 Mz newly 19 yr old Ev has evidently had quite enuf of fotoging.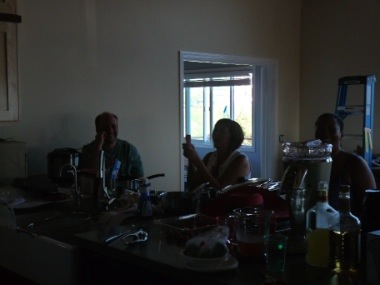 a Saturday spent mostly by the pool with friends and family and Ms 'Rita followed by home cooking in new kitchen makes the Best Caturday Evar!! sorry about the No Flash shot, the battery was having a slow death in which it refused to charge the flash in which to conserve itself. punkass battery.
thx for making our first dinner Ev, we'll all rmbr it for long years!! you rock.